EmbroideryBadge UK
EmbroideryBadgeUK is a supplier of high-quality embroidered/woven badges, labels, epaulettes and lanyards. We are experts in this field – we don't just 'take' your order, we study your artwork and give our expert advice and then decide on the correct technique for your product that fits perfectly.
We aim to get your products to you at a fast rate – our delivery for embroidered badges, from final 'time of approval' is 10-12 days and woven badges is 14-16 days.
We can also help you with your digitizing services – please go to
www.netdigitizing.co.uk for more information or call our offices.
Our customer service is based in the UK and we have staff at the ready for any advice or help with your order.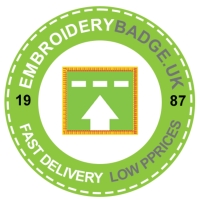 Contact Details
EmbroideryBadge UK
EmbroideryBadgeUK (Netdigitizing Ltd)
Sovereign House
153 High Street
Brentwood
Essex
CM14 4SD
Tel: 0800 368 7414
Website: http://netdigitizing.co.uk/