Chadwick Teamwear
Chadwick Teamwear are the first choice for premium quality, performance, 'non branded', team and trainingwear.

Ideal for customising with your own brand and available from UK stock.

We celebrated our 50th year in 2017 and have always been proud of our rich heritage in the UK and European garment/textile manufacturing industries. But it's our experience in combining offshore manufacturing of both innovative teamsport garments and fabrics which defines Chadwick Teamwear today.

Forward thinking and investment together with a strong sales orientated approach has been the key to our ongoing success. We feel strongly that our high level of commercial awareness and ability to spot new trends and opportunities is reflected in all that we do, which ultimately enables us to deliver what customers want.
Products
Jackets, Coats, Gilets, Training Tops, Midlayers, Hoody, Technical Tee's, Baselayers, Polo Shirts, Shorts, Skorts, Leggings, Pants, Cricket Kit, School Games Kit, Socks, Bags
On the stand
Tim Roberts, Joel Chadwick, Huw Arthur, Anthony Egan, Jordan Kowalewicz , Katie Royle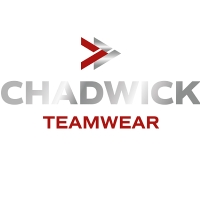 Contact Details
Chadwick Teamwear
92 George Richards Way,
Broadheath,
Altrincham,
Cheshire,
WA14 5ZR
Tel: 0161 927 2565
Email: marketing@chadwicktextiles.co.uk
Website: http://www.chadwicktextiles.co.uk